News and Upcoming Events:
​
SOSA (Something on Sabbath Afternoon)
December, 4 at 3:00 pm in the Community Room
Plan for a special afternoon event on Dec. 4 at 3:00 p.m. in the Community room.  We will be making greeting cards to include in the Christmas food boxes.  Bring your creative ideas, encouraging words, markers, stamps, punches, or any supplies you have to help decorate the cards.  Come even If you don't have supplies, some will be provided. Fun for ALL.
---
December. 11 immediately following the Gentry Christmas Parade.  You are invited to enjoy some refreshments and a Christmas movie in the youth center. Check out the parade and come join the Christmas fun!
---
Harvest Tree
Going on now thru Dec. 11, 2021
Join in by donating items each week, now thru December. A variety of items are needed and categories of donations are coordinated each week. Check the bulletin for which items to bring in the following week. Last year over 4,000 lbs were donated. This year we hope to reach the same in order to help needy families in the community.  
---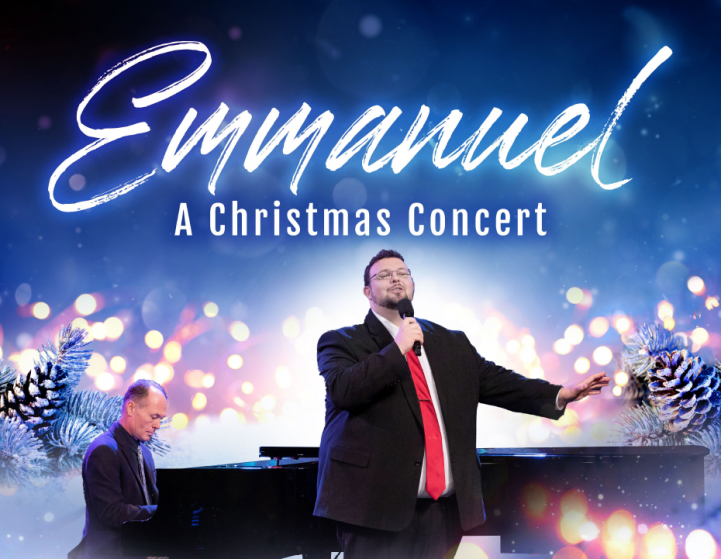 Emmanuel, a Christmas Concert
Saturday, December 18, 11:00 a.m.
Come join us and enjoy the musical talents of Ryan Day and Tim Parton. 
---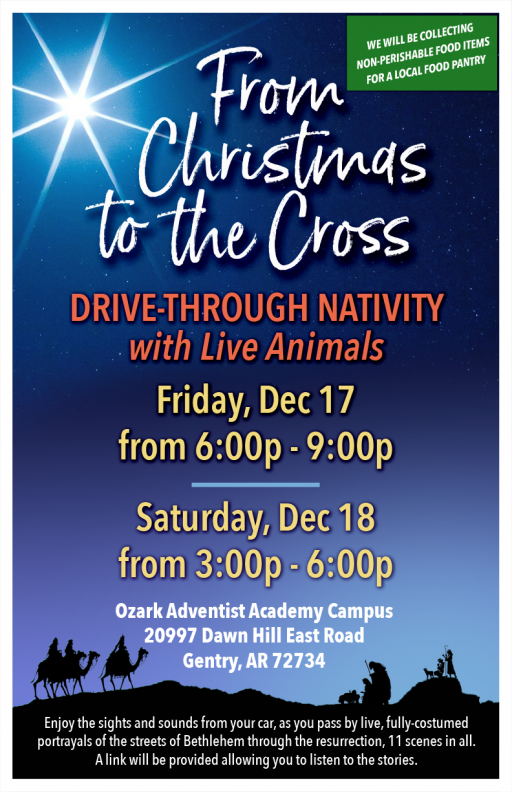 OAA Drive Through Nativity - 
From Christmas to the Cross - 
Enjoy the sights and sounds from your car, as you pass by live fully costumed portrayals of the streets of Bethlehem through the resurrection.  11 scenes in all with live animals.

Friday, Dec. 17 from 6:00-9:00 p.m. and Sat. Dec. 18 from 3:00-6:00 p.m.
---
Food Distribution
Thursdays at 10:30
In the book , The Desire of Ages, Ellen White once wrote that Christ's "willing hands were ever ready to serve others." On Thursday mornings at around 10:30 you'll find members of our church in our Youth Center manifesting the same type of spirit.  The Manna Center in Siloam Springs in currently experiencing a larger demand for food delivery than they can currently handle.  The center has plenty of food but needs willing hands to distribute it. To help fill in some of the gaps, members of our church are delivering boxes of food to designated needy families in our area.  Anyone who is interested in helping to meet this need may contact Marti Cash or call the church office at (479) 736-8808.
---
Misc. Info
Sabbath School quarterlies are available online HERE.
To keep up to date on more news and events at the Gentry Seventh-day Adventist Church, please check the weekly announcements.