News and Upcoming Events:
GREAT HOLIDAY KICKOFF!
Dec, 3 at 4:15 p.m.
Vespers in the community room (bring an ornament to exchange) followed by a Social / Game night in the Youth Center.  Bring your Favorite holiday snack to share! Hosted by the Women's Ministry and the Social Committee!
Christmas Concert
Dec, 10 at 7:00 p.m.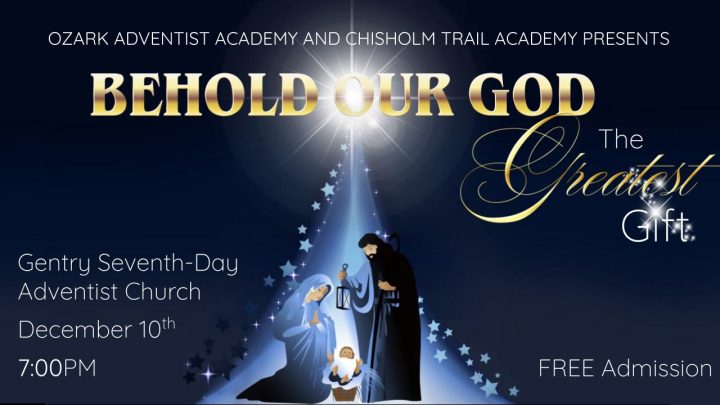 ---
Prayer Meeting meets every Wed. evening at 7:00 p.m.    New study for prayer meeting will be Hosea:  The Man-the Prophet-The Message.  You will be blessed!
Food Distribution
Thursdays at 10:30
In the book , The Desire of Ages, Ellen White once wrote that Christ's "willing hands were ever ready to serve others." On Thursday mornings at around 10:30 you'll find members of our church in our Youth Center manifesting the same type of spirit.  The Manna Center in Siloam Springs in currently experiencing a larger demand for food delivery than they can currently handle.  The center has plenty of food but needs willing hands to distribute it. To help fill in some of the gaps, members of our church are delivering boxes of food to designated needy families in our area.  Anyone who is interested in helping to meet this need may contact Marti Cash or call the church office at (479) 736-8808.
---
Misc. Info
Sabbath School quarterlies are available online HERE.
To keep up to date on more news and events at the Gentry Seventh-day Adventist Church, please check the weekly announcements.