Church News and Upcoming Events: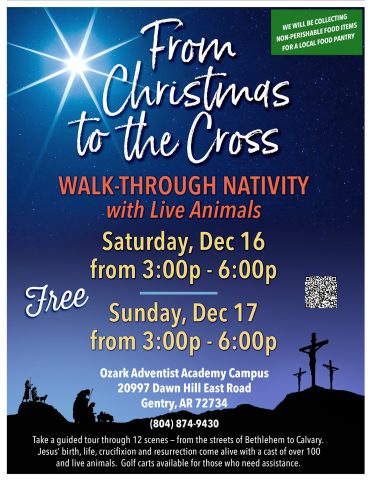 6th Annual Christmas to the Cross, live walk-through nativity will happen again. If you would like to help with the nativity or have any questions call Judy Fetters at 804-874-9430 or email euglena1370@yahoo.com  
Dec. 16 from 3:00-6:00 p.m. and Sunday, Dec. 17 .3:00-6:00 p.m.
Women's Ministry Upcoming projects for Nov. and Dec. (everyone is welcomed to participate).  We have so much to be thankful for this thanksgiving season and always. In November, we will be sending encouraging cards and letters to our deployed troops via America's Adopt a Soldier program. You can make a homemade card of your own, or take one provided by the church on the tables on both entrances and return them by the end of the month. Do not seal the envelope please, as we will add some inserts to the card before mailing.  In Dec. we will be collecting gently used coats and new socks for the homeless.
---
Food Distribution: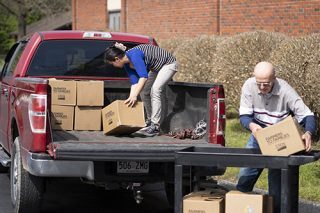 Thursdays at 10:30
In the book , The Desire of Ages, Ellen White once wrote that Christ's "willing hands were ever ready to serve others." On Thursday mornings at around 10:30 you'll find members of our church in our Youth Center manifesting the same type of spirit. 
Anyone who is interested in helping to meet this need may contact Marti Cash or call the church office at (479) 736-8808.
---
Misc. Info
Sabbath School quarterlies are available online HERE.
To keep up to date on more news and events at the Gentry Seventh-day Adventist Church, please check the weekly announcements.