Coming June 2-6, 2020!
 
The theme for the 2020 Northwest Arkansas Campmeeting is "Into His Likeness."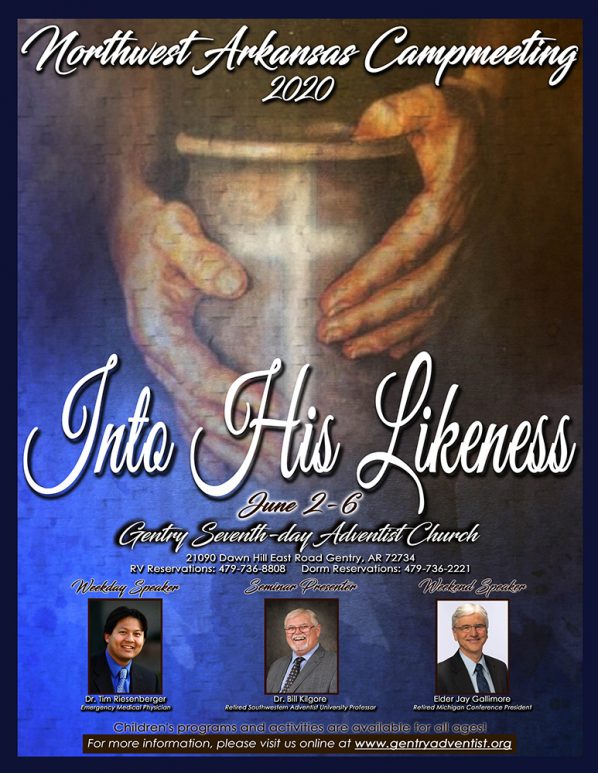 From the 82 year old retired teacher sitting on the second row, to the three year old scooping up sand in the sand box, to the fifteen year old skidding across the wake behind a ski boat, Northwest Arkansas Campmeeting offers a wide variety of activities and spiritual programming for almost any age.  We provide Kindergarten, Primary, Junior, Earliteen, Youth, and Adult divisons. 
The campmeeting runs from Tuesday through Saturday night.  RV and tent spots are available to reserve from the church office at (479)736-8808.  Dorm rooms at Ozark Adventist Academy, across the street from the church, are available to rent by calling Ozark's business office at (479)736-2221.
Campmeeting Meals
Meal tickets for Ozark Adventist Academy's cafeteria are available to purchase at the church office or Ozark's business office.  Meal prices are $7.00 for individuals ages seven and up.  Meal tickets for children ages three to six are $5.00. Children under the age of three eat for free with a paid adult ticket. 
Gentry's Pathfinder club operates the "Snack Shack" during campmeeting and sells meals and snacks in the Youth Center next to the church.  Proceeds from their sales benefit the Gentry Travelers Pathfinder Club.  They sell items such as haystacks, vegeburger meals, hot dogs, and the most delicious hand dipped corn dogs! 
Gentry's Womens' Ministries group also has a booth in the youth center and sells delicious homemade vegan meals and desserts.
 
Adventist Book Center
The Adventist Book Center will be on campus during campmeeting and will have a wide variety of books, CD's, and DVD's available for purchase.  If you would like a particular book or product from the ABC you may call the Texas ABC at 1-800-333-1844 and preorder the product to ensure it will be available for you.