A Look in the Library
Benjamin Franklin once wrote "the person who deserves the most pity is a lonesome one on a rainy day who doesn't know how to read."  For those who may have a rainy day in their future, our church library holds some books that once started are hard to put down. Travel with missionaries down a treacherous jungle trail in Indonesia and let your heart pound with Walter Loge as you slip quietly away from a forced labor camp in Russia.  Be transported on adventures you could never have imagined and travel to places you didn't even know existed. 
Our church library is open from 9:15 a.m. to 9:30 a.m. on Sabbath mornings.  Some of the book covers may be a bit faded and their contents may even be out of print, but hidden away inside... is often an amazing story.
Featured Library Book:
Him Big God Day and Other Remarkable Sabbath Stories by Stanley M. Maxwell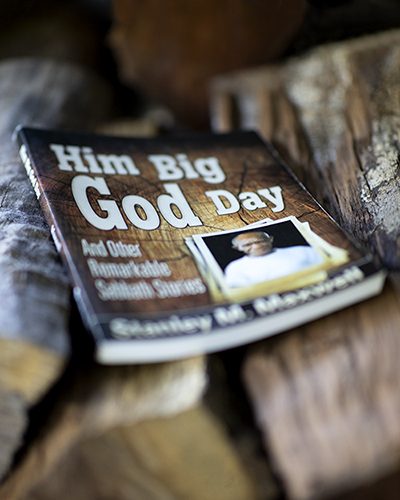 Outwardly he looked alone as he sat in his jail cell for honoring God's fourth commandment.  But I'd imagine if we could have looked through the veil we would have seen a room full of angels as this young soldier refused to violate his conscience.  In "Him Big God Day and Other Remarkable Sabbath Stories," find out how God intervenes in behalf of this young soldier and many others who refused to dishonor the Seventh-day Sabbath.  
"Him Big God Day and Other Remarkable Sabbath Stories" is an engaging compilation of true short stories gleaned from Stanley Maxwell's travels across the globe.  The individual stories are short enough to be read during family worship, but interesting enough to read away an entire afternoon snuggled into your favorite chair. 
Published in 2011 by Pacific Press, a glimpse into the first chapter of the book is available HERE from the Adventist Book Center.   "Him Big God Day" is available in our church library. 
Featured Library Book:
The Seventh Escape by Jan Doward
Walter Loge was anything but a timid prisoner. If there was a way to escape, Walter would find it!  The Seventh Escape takes Walter, along with the reader, on a harrowing trek across Russia as this German ambulance driver in World War II attempts to slip through his enemy's hands.

First released in 1968, The Seventh Escape was republished in 2012 by Pacific Press as part of their Adventist Heritage Library and is available to check out in our local church library.
For questions about our church library please contact Tawnya Norwood.