As the nights grew cooler and winter's chill hid just around the corner, you could see in our western hallway a box quietly filling with new socks for the homeless.  Our Women's Ministries team collected hundreds of pairs of socks to help meet the practical needs of the homeless and show them a glimpse of the kindness of Christ.  Ministering to the needs of the community as well as enriching and edifying the women in our chuch is part of the purpose of our Women's Ministries Department.  From seminars that enable church members to better serve others, to concerts, ladies teas, sleepovers, and benefit luncheons, there are many opportunities to get involved and help make a difference in the lives of others in the church and community.  If you would like to become involved please contact Dona Young or the Church Office at 479-736-8808.

What's Happening in Women's Ministries:
April/May 2020
It changes nearly every week. One week it may be those familiar vibrant green carrot tops that are peaking above the top of KT Produce's food boxes.  Another week you might see the silky smooth tassels of their mouthwatering yellow sweet corn nestled snuggly in the corner of their stiff cardboard boxes, or maybe you'll see some of those little cherry tomatoes that just don't taste like the ones in the grocery store.  In the midst of a world filled with stress, anxiety and fear, our Women's Ministries team is going about bringing cheer, hope, and encouragement.  Dona Young and the ladies involved with Women's Ministries have been delivering KT Produce boxes filled with fresh farm produce to homes and families around Gentry.  Some of the families they have visited have been financially impacted by the Covid-19 virus crisis and the boxes have been such a blessing - like the family of five whose father is now only working part-time or the driver who is finding it difficult to find very many loads to haul.  Please pray for our Women's Ministries team as they continue to minister in our community.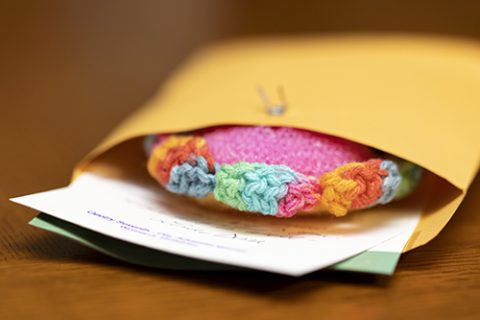 April/May 2020
An unknown author once wrote "never get tired of doing little things for others for sometimes those little things occupy the biggest part of their hearts."  When the package arrives it is just a little thing but it is enough to bring a smile to the hearts of many of the ladies in our church.  Our Women's Ministries team has been mailing out little kitchen scrubbies with a piece of literature and a heartfelt note.  During this time when we haven't been able to be together, they wanted the ladies to know they were being thought of and missed.    

Due to the Covid-19 virus the "All Dolled Up" Ladies Luncheon has been postponed until we are able to fellowship together again.